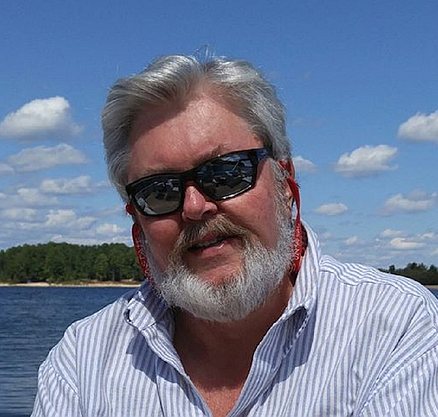 About Artist Frank Timberlake
Born and raised in North Carolina, Frank Timberlake is a former award-winning broadcast and newspaper journalist and news reporter/contributor to wire services, radio, and TV stations. He ran small-town radio stations and worked for a national media conglomerate. While out covering stories, a TV station and law enforcement asked him to begin photographing accidents and crime scenes so he bought his first professional camera and started shooting.
Founding an ad agency in 1990 Frank added his media savvy and creativity to form an award-winning agency, now successful for over 30 years.
Timberlake's itch for personal creativity never left, it just was pushed back until his wife and business partner of better than 40 years suggested he pick up a brush and paint. As he is totally dialed in on pinpoint realism, he just was not happy with his painted artworks.
Not having a reverse gear, Timberlake studied techniques for converting photographs to fine digital art that has a look, and once on canvas, even the feel of painted art. He studied, was tutored, and worked until presenting his work to a four-panel group of art teachers and artists, who to his surprise, gave him rave reviews. Then, Timberlake's patented PhoArt® was born.
Then he began putting his art into regional shops and online. The rest is history. Frank likes to shoot and develop series based on locales. It may be years before he processes all the pictures into prints for sale, but he has prints from many North Carolina and Virginia communities, as well as other yet-released collections in Savannah, GA, Maine, Ohio, and other places. He does not do commission work, but if asked, will investigate doing a four to six print collection of a specific community.
If you ask Frank Timberlake, he will tell you that he is not a photographer, but rather, he is an artist who gears his final work towards the customer, "Besides providing them a unique piece of art already framed, I pride myself on being able to produce that signed and numbered print at the size the customer wants, not what I choose. Because I think art should fit everywhere!"
We all can agree that the 2020 was a challenging year with a lot of upside and downs for everyone. One of the best moments of the year was witnessing the wedding of our daughter. Our daughter, Lelonda and son-in-law, Aldo started their new journey by purchasing their first home. We really wanted a unique and special house-warming gift. My wife, Kim, and I decided that artwork would be a good idea to give to the newly-weds.
I found out about Shutter Art Gallery and contacted Frank Timberlake. Mr. Timberlake listened to my story and let me know that he had a Savannah Collection that might contain what I was looking for. It turns out that he was correct!
When we saw "Morning Sun On The Talmadge " I knew that I had found the perfect housewarming gift. When my daughter was younger, we enjoyed the mornings and evenings on River Street admiring the beauty of the Talmadge Bridge. The artwork and Mr. Timberlake's personal message to Lelonda and Aldo with be a keepsake for years to come. Thanks to Shutter Art Gallery and Frank Timberlake for helping us to create lasting memories with his beautiful art!